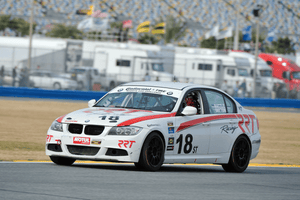 RRT Racing encourages everyone who is interested in motorsports to do just that and get involved. It's easier than you think. Most everyone starts of with just going to a race. You don't have to know anyone, simply purchase a ticket, grab a cold drink and watch the exciting action. Many different locations will allow you to walk around the pit area. Here, you can meet the racers and see their cars. It is really easy to make new friends because everyone automatically has something in common, RACING!

For those of you that want to step up to the next level and participate in an event, that is easy too! Most people get involved doing some type of driving school or HPDE event. These are events designed for you to learn about driving on the track in your street car. You can get the thrill of going fast, legally. These are run pretty well, are safe and there is very little risk to your car.

After you get comfortable behind the wheel at speed, you might just get the bug to go racing yourself. There are hundreds of classes across the country. Finding one that you and your car fit is easier than you think. RRT Racing would be more than happy to help you choose and we can help you and your car ready!
NCC Autocross
Autocross differs from track events because it typically remains under 60 mph and has less straightaway and many more turns. Autocross events are frequently held in large parking lots. Traffic cones are used to define a course where drivers compete one car at a time against the clock. The times are recorded and used to differentiate drivers as they compete against each other. There is no passing or rubbing of fenders since cars are always separated from each other. RRT is proud to be the title sponsor the NCC Autocross since 2015. You can get involved with autocross on NCC Autocross's website
World Racing League (WRL)
No-contact culture, unrivaled camaraderie, unparalleled competition and ease of use are at the core of what we do. Providing an environment where the racing is hard and the cars come home clean is our aim. From comprehensive driver tracking, staff with decades of experience, and some of the best competitors in amateur racing, WRL is the place to be!
BMW Club Racing
BMW Club Racing is an excellent way to get involved for those die hard BMW enthusiasts. What the organization lacks in Mmrque variety, it more than makes up for with specific and exceptional knowledge of BMWs. It driving schools are among the best out there and everyone is willing to help whether you are a rookie or a seasoned veteran.
The National Auto Sport Association (NASA)
The National Auto Sport Association (NASA) was formed in 1991 to deliver high quality motorsports events to enthusiasts at major racing venues throughout the nation. NASA has created programs that allow owners of both racecars and high-performance street-driven vehicles to enjoy the full performance capabilities of their cars in a safe and controlled environment. NASA offers many different programs that will allow you to enjoy motorsports on a number of different levels. These include High Performance Driving Events, Rally Sport, Time Trial, NASA-X and Competition Racing programs.
AER Endurance Racing
The American Endurance Racing (AER) series was born out of a desire for an inclusive endurance racing series with simple rules. AER's goal is to provide a fun, safe environment for experienced drivers to participate in endurance races using almost any production based race car.
SCCA Racing
Since 1944, SCCA has championed one mission: To bring motorsports to the masses who are passionate about automobiles, speed and competition. From National Championships to regional events, whether professional or amateur, the SCCA exists to organize, support and develop auto racing at every level and provide an outlet for you to get out of the armchair and into the action. Whether your passion is autocrossing, rallying or road racing as a professional or as a weekend warrior, SCCA will help you fuel your passion.