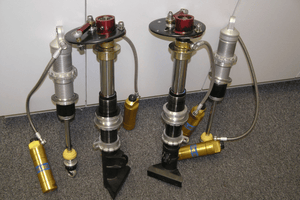 What is suspension tuning?
When RRT was founded over 12 years ago, we began as a suspension tuning, design and development company. Our years of experience have built a knowledge base that is hard to find elsewhere. If you are looking for the right suspension upgrades for your car we can help you determine that package. There are many options when it comes to suspension. The simplest setup is simply replacing your springs and struts/shocks. This is a relatively inexpensive option that can improve handling, looks and road feel. As we will help you match a proper spring and shock combo, this can be achieved without a large sacrifice on ride comfort.
The next step up in suspension tuning choices are coilovers. There are literally thousands of options here, but we will help you narrow it down. The biggest complaint that we hear is how harsh a person's car rides with coilovers and that scares a lot of people away from a great handling upgrade option. We agree that most kits out ride very harshly.The reason is that many manufactures simply produce a product that "fits" the car. They take a generic base damper, make a housing to fit the application and provide springs that are generally too stiff. This allows larger margins in their products because they skipped over the time it takes to properly tune a suspension kit for a specific vehicle. Fortunately, not every company is like that. Companies like Dinan Engineering, Ohlins and Fortune Auto work with us to provide a end product that not only "fits" the car, but more importantly, it works with the car.
What Exactly is a Strut, Shock or Damper?
Shocks control unwanted spring oscillations and reduce vibrations caused by the wheels and chassis. When you hit a bump, the suspension's springs compress and decompress, absorb vibrations and transfer energy to the shocks through their upper mounts, into their pistons. As a result, the shocks dampen the vibrations, making that bump virtually unnoticeable. The degree to which all of this happens depends on the shock's internals: stiffer shocks slow spring movement while softer shocks do the opposite.
Shocks do more than just reduce vibrations and control spring movement, though; they also eliminate rocking, pitching, dipping, wheel spinning and all sorts of other things that aren't supposed to happen when turning or stepping on the gas or brake.
So are the names Shock, Strut, & Damper allowed to be used interchangeably? No. Even though all three serve the same purpose, their names define how they are constructed and installed on a vehicle. A shock is an independent item that is added to a suspension system. A strut is a main structural component of the suspension system and a coilover is the name given to a design similar to a strut but with a very large range of adjustability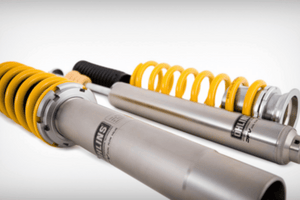 What else is involved?
After ensuring that your components are installed properly, the next step in suspension tuning is to provide a proper setup. We can corner balance your car to provide the best weight distribution your chassis will allow. In combination with this balancing, our alignment equipment is top of the line, which enables us to precisely adjust your suspension and give you the best handling possible. Further upgrades can include sways bars, adjustable links, camber plates and strut bars. We can fulfill all of your suspension needs. Stop in or give us a call to speak with one of our experts!